About Us
Founded in 1992, we first targeted the Asian market for office automation, which meanwhile resulted in high end security solutions for data centers. As of 2005, Pacific-SecureIT converted into the Asia-Pacific HQ for European Manufacturers leading the way in IT-Security.

Our customers work hard to be well prepared in meeting their requirements for tomorrow, in protecting company values and achieving highest systems availability and secure company growth. We assist by offering certified security without compromise. Our solutions meet the relevant international security standards, tested and certified by recognized international organizations. For us IT-Security is one of the most serious business in the world. Together with our authorized partners asiawide, we meet this global demand locally in close cooperation with our customers.

We help large, medium and also small organizations, government institutions and the financial sector to prepare in due time against unexpected physical risk, damage from human behavior and natural disaster, from ordinary theft to shielding and potential losses from fire, heat and smoke. We physically secure data centers and data.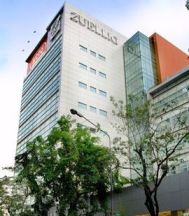 Zuellig House located at 1, Silom Road, Bangkok
"Best Global Business is Local"